I hope you enjoy reading this blog post.
If you want my team to just do your marketing for you, click here.
The importance of digital marketing in today's business world cannot be over-emphasized. Due to the ever-increasing number of people with access to the internet, different businesses have developed various approaches to meet them and conduct business online. Any business that doesn't have an online strategy is just waiting to die, it's inevitable. And statistics support this theory.
Everything and anything can be marketed and sold online. You only need to figure out the market and how to meet the demands. Billionaire businessman Jeff Bezos said "It's hard to find things that won't sell online"
It's hard to find things that won't sell online
JEFF BEZOS
From 1.1 billion people in 2005, the number of internet users worldwide grew to 3.97 billion in 2019. 79% of adult Americans use the internet. Due to FOMO (fear of missing out), companies and individuals will continue to stay connected on the internet in order not to miss out on what others are up to. 60% of Millennials make reactive purchases due to FOMO. The average US Internet user views 2,750 web pages per month. 1 in 3 US consumers spends three or more hours online every day.
With these staggering stats, it becomes inevitable that serious businesses MUST be developed and use a digital marketing strategy in order to stay afloat. According to a 2014 research, e-businesses are not only a trend; they represent a revolutionary approach to the "making business" concept. Because they failed to embrace online business strategy, some businesses have died, and many other things are being changed forever.
What is Digital Marketing?
Digital marketing, often known as online marketing or internet marketing,, is the promotion of brands through the use of the internet and other types of digital communication to interact with potential clients. This comprises text and multimedia messaging as a marketing channel in addition to email, social media, and web-based advertising.
See How My Agency Can Drive
Massive

Amounts of Traffic to Your Website

SEO - unlock massive amounts of SEO traffic. See real results.

Content Marketing - our team creates epic content that will get shared, get links, and attract traffic.

Paid Media - effective paid strategies with clear ROI.
In its simplest form, digital marketing refers to marketing efforts carried out over the internet, it revolves around using the internet to reach consumers of goods and services.
Different experts have given various angles to digital marketing meaning because it is broad and involves different strategies geared towards the same goal – reach, connect, and transact with potential clients over the internet.
With faster internet and as mobile phone becomes more powerful, internet marketing trends have evolved. You can do almost every kind of business over the internet.
Why Is Online Marketing Important?
The advantages of online marketing are enormous, but the single most important is the enormous reach and the ability for you to attract higher-quality traffic. Targeting specific leads allows you to generate traffic to your company's media. Prospects can be selectively targeted based on various qualities.
From the comfort of your home, you can reach and be doing business within hours with clients from opposite parts of the world. As a result, the importance of digital marketing during covid in 2020 and beyond has skyrocketed.
Those who ask Why digital marketing is important for startups or traditional businesses soon wonder how their businesses had survived without it—the ability to reach an enormous audience cheaper and faster. The following are some of the main importance and advantages of internet marketing for your brands or business.
It is measurable
Personal interaction with your audience leads to brand loyalty
Engage with the audience at various stages of the Buying journey.
Super Target the Audience
Optimize and increase rates of client
All results can be measured accurately
Obtain Brand Credibility
Generates better income
How to Learn Internet Marketing
The several ways to learn digital marketing, include:
Sign up for premium digital marketing courses.
Read books on digital marketing.
Read blogs about digital marketing, such as www.imarena.net/blog
View YouTube videos
Perform an internship
You should be following Social media influencers
Listen to a podcast about digital marketing.
Attend webinars
Enroll in free certification classes.
Earn your MBA in digital marketing
Seminars and conferences on digital marketing
Make use of LinkedIn learning.
Join groups on Facebook.
Participate in digital marketing forums.
Try your hand at freelance writing.
Internet marketing is a very elaborate field and requires a planned and concise execution, following the standard practices. There are no shortcuts on How to Learn digital marketing.
Even as there is an enormous audience out there, understand that you are up in competition against the rest of the world. So you have to take a world standard approach towards your training. That does not automatically translate to huge sums though.
Here Are Some Tips On How To Learn Digital Marketing:
Work with knowledgeable and experienced Digital Marketers – There is no substitute for experience. You need to be tutored by an experienced digital marketer for you to succeed.
Start your own marketing blog – this will enable you to experiment and track the results of the things you learn.
Learn the basics of digital marketing – There is no shortcut or high-speed way. you start from the foundation and climb.
Get a google digital marketing certificate – while this is not important, especially if you want to be self-employed, but it all adds to your digital marketing resume.
Practice nonstop – Digital marketing evolves, and you can't afford to be left behind and, of course, Never stop learning. Your road to success in digital marketing training is a nonstop one.
Digital Marketing Course
Though there are ways on how to learn digital marketing for free, the expert knowledge has to come from an internet marketing expert. He or she will run you through how to learn digital marketing online.
There are different digital marketing courses that you can learn to improve your knowledge in the field. We will look at them.
Digital Marketing Strategy
Similar to traditional marketing, there are also strategies involved in internet marketing. When clearly mapped out and followed diligently, you will succeed in your quest for online business success.
What is a Digital Marketing Strategy?
Digital marketing strategy is an outline plan of success for your business to achieve its set out marketing goals via online channels such as organic search, social media, paid advertisements, and other web-based media. It involves deciding the channels, budget, tactics, and more, all focused on ensuring online business success for the business.
Some online agencies can provide digital marketing strategy templates for their clients to make things easier. It makes even includes a real-life digital marketing plan example framework in pdf to make things easier. This is most important in a b2b type of arrangement.
Digital marketing strategy examples
Here are the main digital marketing examples that can be deployed to make success in your online business:
Search Engine Optimisation (SEO)
Social Media Marketing (SMM)
Search Engine Marketing (SEM)
Email Marketing.
Digital Advertising.
Content Marketing.
Ecommerce
Search Engine Optimization (SEO)
Search Engine Optimization (SEO) is the practice of increasing the number of visitors to a website by ensuring that the site appears near the top of the list of results returned by a search engine.
This leads to more un-paid or organic traffic from these search engines since there will be better visibility for relevant searches.
If you are trying to grow your qualified search traffic, you have to combine your content marketing with your SEO efforts. – Neil Patel
There are 2 major branches of SEO:
On-page SEO refers to every SEO effort done within the website itself
off-page SEO, which refers to all SEO efforts outside the website.
On-page SEO factors:
Here are the on-page factors that you have to optimize in order for the web page to score higher:
Title, Meta, and Canonical tags
keywords in the page's copy
The length of the content
Duplicate content
Image Optimization
Freshly updated content
Linking to authoritative pages
Internal links
Site factors: These are factors that have to do with the website as a whole
Sitemap
Domain trust
Server location
Mobile optimized site
Google Search Console integration
Domain factors: These are factors that have to do with the age, registration, and hosting of the domain.
They are –
Domain registration age
 Domain history
Country TLD extension
Off-Page SEO factors
To rank higher, you also need some help and effort from outside of your website. Here are those factors:
Links related: These are off-page factors that have to do with links pointing back to the domain
Authority Trust of referring domain
 number of referring domains
Dofollow/ Nofollow
Anchor Text
Relevance
Authority
On-page keyword usage
CTR Traffic
Non-Links Related
NAP citations
Brand mentions
Google My Business
Reviews
Social Signals Graph Metrics
Content Marketing
In IM, Content marketing refers to strategies geared toward creating and distributing relevant digital content with the aim of attracting the audience. These audiences are then guided through a kind of digital funnel that ends with them executing the aims of the website owner.
Utilizing various formats, content marketing offers its audience useful insight and valuable information related to their interest.
Longer content helps you rank better for your target keyword and brings in more long-tail traffic … a win-win – Brian Dean
Deployed in the forms of videos, audio, graphics, blog articles, ebooks, and social media posts, amongst others, these content are engaging enough to lead the audience on the desired path.
Types of Content Marketing strategy
There are different types of digital content marketing strategies, and they include:
Blogging
Blog posts are self-published diary-style information or journals hosted on the internet. Usually appearing in reverse order, with the newer posts coming on top. Bloggers use blogs to share their opinions and views on topical issues.
Blogging with the right content writing tools take various forms, mostly in written form, but includes videos, case studies, etc.
In the world of internet marketing, there are basically 4 types of blogs, and they are self-explanatory:
Personal blogs
Affiliate blogs.
Videos
Video content can be described as any format of content that is made of motion pictures.
Marketing videos include vlogs (video blogs), live videos, video testimonials, animated GIFs, webinars, and presentations.
Videos as a form of content have been shown to be very successful in internet marketing, drawing, and keeping traffic long on your website.
Infographics
This is imagery made for easy understanding that displays a collection of charts, images, and little texts. It is usually presented in a mini-story chronology for easy understanding.
Case Studies
A case study is a detailed, evidence-based study of a subject. This can be a phenomenon, person, organization, event, or place, etc. It involves a meticulous and systemic investigation, which will prove that the method actually works in a particular way.
In IM, case studies are very valuable because others refer to it as a proven working method for the topic under review.
eBooks
An electronic book, popularly known as an ebook, is an uneditable digital format of a book that was formatted to be read on digital devices like computers, mobile phones, or ebook readers. It consists of texts and images.
e-Courses
An e-courses is a self-paced electronic or online training course. They are formatted to be used on digital devices for training and educational purposes. It can be pre-recorded or presented live over the internet. There may be options to pause and continue the study at a later time.
User-generated content
In IM, user-generated content (UGC) is any form of online content domiciled under a brand's marketing channels that were created by others who are not part of the business.
It can come in various formats, including text, images, videos, audio, or a combination of all. In addition, UGC can come in any or all of the following forms:
Other user-generated contents include:
Blog comment
Social media comments or posts
Reviews
User-generated videos
User-generated blog posts
Forum posts
Podcasts
Social media posts
Social media posts are web content placed on social media platforms. In IM, it usually is done to attract and engage clients to be loyal to the brand.
These social media platforms include Facebook, Twitter, Instagram, etc., and come in forms similar to UGC above.
Checklists
Checklists in IM are a standardized lists containing things or steps that can be checked off as done, mostly repetitively.
The idea is to mark each as soon as it's finished, so you are only left with uncompleted tasks.
Different types of checklists include:
Communication checklists which essentially outline levels of communications in an organization;
Procedural checklists outline steps that must be religiously followed in that order. This type is used in the aviation industry;
Project checklists outline tasks that must be completed in a project to succeed.
Checklists enable people to remain focused and on track without requiring them to memorize the steps required to get tasks done.
Other Forms of Content Strategy Include:
Memes
Testimonials/Reviews
Whitepapers
How-to Guides/Academies
Webinars
Podcasting
There are other types of content marketing strategies within them, but they all fall within these major content marketing outlines.
There are content marketing institutes that train people on specific types of content marketing, and they have a list of content marketing courses on offer.
In an organization, the person that takes charge of content marketing is called the content marketing manager. Such a person is tasked with overseeing all the content marketing jobs within the organization.
In the area of advantage, the benefits of content marketing cannot be overemphasized, but it has shown to be the single most important way to attract and retain clients.
Social Media Marketing
Social media marketing (SMM) refers to the use of social media websites, networks, or platforms to market or promote the products or services of an individual or company.
Individuals or companies use the power of social engagement that social media provides to keep their existing clients and capture new ones.
When you find your own voice for you or your brand, that's when your content is going to be the best – Peg Fitzpatrick
Benefits and Importance of Social Media Marketing
In today's world, social media is the buzz. People spend so much time on the platforms that you are sure to meet them if done right.
Here are some benefits and importance of social media marketing
Engage with your customers
Improve brand visibility
Improved brand loyalty
Cost-effective
Increased website traffic
Improved brand authority
Your SEO rankings improve
Improved customer satisfaction.
Types of social media marketing sites
In carrying out social media marketing, you must use social media networks. Here are the various types of social networks:
Social networking sites
Jack of all trades. does a bit of everything, e.g. Facebook
Social review sites
Review sites like Yelp and TripAdvisor display reviews from community members for all sorts of locations and experiences.
Image sharing sites
Users create, curate, and share unique images that spark conversation and speak for themselves, e.g. Pinterest
Video hosting sites
Users create, curate, and share unique images that spark conversation and speak for themselves, e.g. youtube
Community blogs
platforms like Medium and Tumblr give people a space to express their thoughts and help connect them with readers.
Discussion sites
discussion sites like Reddit and Quora are specifically designed to spark a conversation
Social Media Marketing Strategy
Just like real-world marketing, social media marketing employs some unique strategies in order to succeed. Here are Elements of an Effective Social Media Marketing Strategy
Update your profiles with different content types
Research before you go-ahead
Plan and publish content consistently
Use chatbots to reduce workload
Provide a budget for your social media strategy
Use relevant channels
Create a group (community) for your brand
Include social media advertising
Listening & Engage with your audience
Test, track, and optimize everything
Digital Advertising
Digital advertising (also known as online advertising) is a type of marketing that uses digital channels to advertise businesses, products, or services, such as websites, streaming videos, and so on. Text, image, audio, and video are all examples of digital ads.
This can be websites, social media, search engines, and other online mediums. They are targeted at and lead through various stages of the buying pathway.
You can't wait for customers to come to you. You have to figure out where they are, go there and drag them back to your store. Paul Graham
Because the internet is where most people spend more time, it becomes necessary to target them online, and digital advertising is one strategy to reach out faster.
Forms of digital advertising
Image Advertising
Video Advertising
Mobile Advertising
Native Advertising.
Advantages of Digital Advertising
Reaches Laser Targeted Audience: One of the main advantages of digital advertising is that you will be able to niche down on your audience's interest and target them with precision.
Provides Measurable Results: You will be able to analyze your results and get to know how well your ads are performing.
Supports Every Ad Budget: Major Ad companies like Google and Facebook support budgets as low as $1 per day.
Delivers Instant Result: Once set up properly, most ads start delivering results ASAP.
Types of Digital Advertising
There are 6 main types of digital advertising, and each plays an important role, as well as is suited to specific circumstances of the marketing process. They include:
Social Media Advertising SMM
These include all forms of advertising delivered over social media. They include social media platforms like:
Facebook.
Instagram.
Twitter.
Pinterest.
LinkedIn.
Snapchat.
Native Advertising
Native advertising is any advertising that is made to match the form and function of the host platform. It's, in fact, paid content. Examples include:
Articles
Infographics
Videos
etc.
Search Engine Marketing (SEM)
Search Engine Marketing or SEM is a form of paid digital marketing that increases brand visibility by making it appear on search engine results pages (SERPs).
Because people go to search engines for practically all forms of research, they are bound to see these ads that dynamically appear based on the terms searched.
The most popular search engines are:
Google
Bing
Yahoo
Baidu
Yandex
AOL.
Ask.com
DuckDuckGo.
Influencer Marketing
Influencer marketing is the use of influencers (people who are popular in a given niche) to endorse or mention a brand to their dedicated online followers.
Also known as influencer marketing. It's a digital marketing strategy that is very popular on social media, where the influencers have large followership.
Email Marketing
Email marketing is the use of emails in marketing to promote a company's products and services and to incentivize customer loyalty. It is a type of marketing in which you can inform clients on your email list about new items, promotions, and other services.
Based on 2018 data, email marketing is still ranked as the most effective marketing channel, beating out social media, SEO, and affiliate marketing.
Email marketing is a highly effective digital marketing strategy for sending emails to prospects and customers. Effective marketing.
In the time it took you to read this sentence 20m emails have been sent. – John Watton
Email marketing helps you connect with your audience to promote your brand and increase sales.
Benefits of Email Marketing
Improve Customer Relationship/Trust: Communicating with your email subscribers or customers will help them understand your business better. For example, you could share with them the story behind your brand or the testimonials of other customers who have used your product or service and have seen results from it. This can make your customers trust you more.
Brand awareness: It is often advised to send email newsletters to your subscribers at least once a week. This way, your brand remains fresh in their minds. Also, most email marketing software has social sharing features which means that your customers can share the email you sent to them with their own network. Thereby increasing your brand awareness.
Conversions:  The whole essence of every business is to make a profit, and email marketing provides a channel where you can market your services or products to your subscribers. Many companies have seen exponential growth in this regard, which is why it is projected that the value of one email subscriber is equivalent to $1 per month.
Types of marketing emails
There are basically 3 main types of email marketing, and other forms fall under these 3 broad types. They include:
Promotional emails:
These are emails that promote a product or service to your subscribers. It is best used when you are launching a new product or want to revamp an old product.
Discount promo emails: These are the promotional email that promotes a product or service by including a discount or coupon to entice your subscribers to purchase.
New arrivals emails: This is a promotional email mainly used by eCommerce store owners to notify their customers of new stock arrival.
Information emails:
Informational emails are mostly emails you send to provide more information on your business.  You could use this opportunity to explain in detail the benefits of using a product or service. When sending information emails, you don't need to hard-sell any product to your subscribers.
Digital Newsletter: Newsletters are like weekly editorials that businesses send to their email subscribers to brief them on what is going on or any future plans and updates that have going on currently.
Product Update: If there was an update on an existing product, you could send a product update email to your subscribers to notify them to update their product.
Transactional emails:
Transactional emails are emails sent as a result of a transaction between the subscriber and the business. Examples of transactional emails include account creation emails, invoice notifications, etc. Most transactional emails are automated.
Purchase invoice emails: Purchase invoice emails are emails sent to a customer whose subscription to a product is about to expire so that he will remember to renew on time.
Password reset emails: These are automated emails sent to you when you forget your password to a website and request a new one.
Why email marketing is important
Accessibility: Email marketing brings you closer to people who have indicated an interest in your business by subscribing and also brings them closer to you because they can access you anytime they want to.
Affordability: Email marketing is cheaper than running ads to promote your business. And there are many email marketing software that you can start with for free.
You own your email list: With the increase in the way FaceBook is taking down people's business pages without any cogent explanation, it has become even more important that every business should have its own list. This is because no one can take down your list – it belongs to you. And if anything should happen to any of your social channels or blog, you can inform your email subscribers of the change.
What you need to start email marketing
There are two basic things you need to start email marketing:
Email marketing software: To collect email addresses and send email newsletters, you will need email marketing software. Thankfully, there are ones that you can start with for free and upgrade as you grow. Some of the most popular email marketing software are:

MailChimp (Free and Paid)
GetResponse (Paid)
Aweber (Free and Paid)
ConvertKit (Paid)
SendinBlue (Free and Paid)
etc.

An email list: While you've got email marketing software, you cannot send an email if you don't have an email subscriber. A collection of email subscribers is called a list. Your list can be as small as 5 to thousands depending on the size of your business. To learn more about how to grow your email list, check out this article on lead generation.
Phases Of An Email Campaign
To successfully run an email campaign, you will pass through the following phases:
Phase I: Get permission – This means the subscriber has to willingly give you his email address on his own. Some software enforces this even more with their double-opt-in feature. This way, after a subscriber enters his email address in the form, he would be automatically sent a confirmation email where he will have to confirm that he wants to receive emails from you.
Phase II: Follow through with great content: After the 1st phase, you will have to follow through by sending great content that will be of benefit to the subscriber. If you used a lead magnet to attract the customer, this is the best time to send what you promised. If you didn't use a lead magnet, still make sure you send some content that the subscriber will value.
Phase III: Analytics and segmentation: Once you send your first email campaign, you should monitor its performance using the software's analytical tools. Most email marketing software comes with analytical tools to monitor, the Open-Rate, Click-Through-Rate (CTR), and more.
You may also need to segment your email list so that your marketing campaigns will be more targeted.
Ecommerce
Simply put, eCommerce stands for the art of buying and selling online. The term eCommerce simply means "electronic commerce." Some popular eCommerce stores are Amazon, Aliexpress, and Jumia in Nigeria.
However, not that there are other subtle eCommerce activities that we hardly categorize as eCommerce because it could be that the website is only selling a subscription service or a single product, unlike the bigger stores with multiple products.
Six Traditional Models Of Ecommerce
There are six traditional models of eCommerce, and they are:
B2C (Business-to-Consumer):
This type of eCommerce business model deals with transactions made directly between a business and the consumer. This is one of the most popular eCommerce business models available online. And one of such is Amazon and Jumia. For example, when you buy a phone from Jumia, you have performed a B2C transaction.
B2B (Business-to-Business):
This is another eCommerce business model where a business sells to another business. For instance, a manufacturer can sell to a wholesaler; a wholesaler can sell to a retailer. These are all businesses making transactions amongst themselves. B2B sales are common with the sale of raw materials or products that are needed to be repackaged before being sold to the final consumers.
C2B (Consumer-to-Business):
C2B model exists where consumers sell their services or products to businesses. One of such in Nigeria is the sale of cans, clothes, and shoes we no longer use to businessmen who repackage and resell them or recycle them. Another example is the royalty stock photo collection like ShutterStock, where individuals upload their photos and professional graphic designers buy the rights to use their image for their design work.
I don't create companies for the sake of creating companies, but to get things done." – Elon Musk
C2C (Consumer-to-Consumer):
C2C is a business model where a consumer sells to another consumer. This can be said to be one of the earliest forms of eCommerce, as mankind practiced trade-by-barter before currencies were introduced. Today, C2C has developed into digital forms, as we can see on eBay, and even Amazon, where people can list their properties, e.g., books, phones, etc., and sell it directly to other consumers.
B2A (Business-to-Administration):
B2A is an eCommerce model where businesses serve administrations. For instance, a law firm (business) handles the legal documents of a university (administration).
C2A (Consumer-to-Administration):
C2A is an eCommerce model where consumers sell to the administration. Such services could be online consulting for education, online tax preparation, etc.
Ecommerce Fulfillment Models
Direct-to-consumer (DTC)
This is a fulfillment model where the seller makes his product or service directly available to the consumer after purchase. Most digital products follow the DTC fulfillment model and are delivered to the consumer almost instantly.
The DTC fulfillment model can also be known as the Self-fulfillment model. This is because businesses that use this model fulfill the orders themselves without the interference of any third party.
Most businesses that use the DTC model are either small or medium businesses with a lower volume of orders.
He takes the orders for a seller selling physical products and forwards them to the consumer via a courier service.
3rd Party Fulfillment Models
When the orders become too cumbersome to handle, that's where 3rd Party fulfillment services come in.
3rd Party fulfillment model occurs when a business engages the services of a logistics company to handle both sorting, packaging, and shipping of their customer's orders. An example of such service is ShipRocket.
Dropshipping
Dropshipping fulfillment model is a method where the fulfillment is done by the manufacturer to the consumer at the retailer's request without the consumer knowing it came from the manufacturer.
This is because in dropshipping, the seller or retailer picks products from a manufacturer and displays it online as though they were his while increasing the price to make a profit on the sale. It advertises the goods at their price to the consumer, and when the consumer makes a purchase, the retailer pays the manufacturer and feeds the manufacturer with the consumer's shipping details. The manufacturer then ships directly to the consumer.
The main benefit of dropshipping for the retailer is that you don't have to keep any inventory in stock, or purchase products before selling them. Also, you don't have to handle the shipping logistics. However, retailers need to be careful in getting a trustworthy manufacturer that won't delay the fulfillment of the products. This is to avoid your support team being bugged by too many angry customers whose shipments are delayed or not delivered.
Types of Ecommerce Platforms
There are two major types of eCommerce platforms and are – hosted and self-hosted eCommerce platforms.
Hosted ECommerce Platforms
A hosted eCommerce platform is such that takes care of everything you will ever need in an eCommerce business. From the hosting to the design, to the shopping cart, you can handle any technical issue for your ecom store.
Most hosted e-commerce platforms are easy to use and are made with the beginner in mind.
An example of such hosted platform is Shopify, Big Commerce, and Volusion.
To operate a hosted eCommerce platform, you only need to subscribe to the service as most ecom hosting platforms operate the SaaS business model. So you will most likely be on a subscription, but the good thing about it is that what you pay to run your store per month is fixed, unlike operating a self-hosted ecom store.
Advantages of using a hosted eCommerce platform
Some benefits of using a hosted e-commerce platform are:
Only Pay for what you need. It is the prerogative of any business to keep costs as low as possible and hosted eCommerce platforms can help you achieve this as it gives you all the tools you need to successfully start selling. As your business grows, you may expand to a higher plan based on your business needs. As we have mentioned before, most hosted plans run on subscription payment plans.
Ease of management: Most hosted eCommerce sites are set up for a non-techy person to easily manage. It is a platform with the beginner in mind, which makes it a very easy platform to manage.
Disadvantages of using a hosted eCommerce platform
Just as most things that have an advantage also have their own limitations, this explanation will not be complete without looking at the limitations of a hosted eCommerce platform.
Customization Of Site Is Limited: Since everything is already set in place for you, there is not much room for the store owner to customize the design or move things around to suit his own taste.
Ever-increasing price point: There are services that you might need as your business starts to grow, gain more traffic and use more resources. Most hosted platforms begin to charge more and you might begin to see it as too pricey.
Limited working flexibility: Since the platform you are using is not yours, you should check out their terms and conditions in order not to have any problems with the platform in the future. However, it is possible that there are businesses they might not allow on their platforms or processes they don't accept. So make sure you check properly before choosing a hosted platform.
Changing platforms can be a problem: When you decide that you want to change from a hosted eCommerce platform to another one, you might notice that it won't be that easy as most hosted platforms don't make it flexible for their users to move out. This is probably a way of discouraging their users from leaving their platform. So most times, if you want to change platforms, you might have to hire a professional, which can be quite expensive.
Self-Hosted ECommerce Platforms
Just as their name implies, self-hosted eCommerce platforms are hosted by you.
It is you who finds and registers with a web hosting company, designs your site, and manages all your store data. You handle by yourself all the technical issues in your ecom store.
The money spent to set up a self-hosted ecom store can be minimal compared to that of the hosted ecom store depending on the resources you chose to use for your store.
Most times, the money you will spend to use a self-hosted eCommerce platform will mostly be the one you spend on setting up your own server on the cloud. Luckily, many good web hosting companies with good support can help you set it up for free if you choose to host with them.
Also, other than setting up your server, most eCommerce applications for self-hosted eCommerce stores are usually free and open source or come at a minimal cost.
Popular examples of a self-hosted eCommerce platform are – Woocommerce, Magento, Opencart, Prestashop, etc.
Website Design
In this section, we will be looking at some of the things you need to know about web design as an integral part of digital marketing.
What is web design?
Web design refers to the process of creating websites. It encompasses many aspects like webpage layouts and content production, graphic design, and so on.
Currently, there are over 1.86 million websites online and more than 4.6 billion internet users. This means that people are already using the internet to their advantage. You will too at the end of this section, you should be able to create functional websites as well as basic landing or sales pages.
The Essentials of a Good Web Design
When creating a website, you should look out for the following essential elements.
Your website is the center of your digital eco-system, like a brick and mortar location, the experience matters once a customer enters, just as much as the perception they have of you before they walk through the door. ― Leland Dieno
1.  A responsive web design
Over 70% of the world's internet users access the internet using their mobile phones. This calls for much importance to be given to how responsive a website design is. A good web design will be optimized to look good both on mobile, and desktop devices.
2. Good Color Psychology
A good combination of colors can draw users in, but bad combinations can distract them. You can enhance the user experience by choosing complementary colors.
A website should not have more than 3 colors as that will be too distracting. However, it can have different tones of the same color as long as it is balanced.
3. Simple Homepage
The homepage should be as simple and uncluttered as possible. Focus on making the important elements stand out and the message of your website should be clear at a glance.
4. Type fonts
Use legible type fonts only. Also, it is advised to use 1 or two type fonts on a website. Too many type fonts will make your website look unprofessional.
5.  Page speed
Whatever you do, pay attention to the pages speed of your website. No one likes a slow website – not even Google.
6.  Easy Navigation
Make sure the main pages on your website are easily navigated by making them accessible on your menu bar. Some of the important pages are – Home, Blog, About, Services, and Contact pages. Those can be in the primary menu section. Whereas your Policy, Terms, and Disclosures can be placed in the footer section.
7.  Search Engine Friedly
Make sure your website is search engine friendly so that it can easily be discovered by search engines and also get ranked. This will help your business get more exposure and traffic.
8.  Optimized Images and Videos
Images play a very vital role in website design. Be sure that they are of high quality and dimensions. Also, make sure that their size in MB is not too much as a heavy image will eventually slow down your website.
Also, optimize your images and videos to be easily discovered by search engines.
How to Create a Website
1.
Determine Your Website Objectives
This is where you answer the question, "What do I want to achieve with my website?" Before you start creating a website, you must have an idea of what you want it to accomplish. These objectives will help you to align all actions on your website to reach these goals.
2.
Build Your Website Brand
Your website's brand identity includes your website's logo, colors, and typography. These have a significant impact on the brand's identity so you need to be careful when choosing and creating them. Make sure your logo is consistent with your brand. Also, learn about color psychology to understand how to choose a good color combination for your website. It's also good to understand that different colors might mean different things so that you can choose one that is most appropriate for your brand.
3.
Select a web platform
No longer do you have to know web programming languages in order to create a website. There are many web platforms that you can use to build a website.
I looked up recent statistics from BuiltWith and W3 Techs to better understand which web platform is most popular.
Have a look at this graph.
As you can see, WordPress is used by nearly half of all websites.
What makes WordPress different from other options?
1.

 

It's free and open-source
WordPress itself is free to download, install, and use, unlike website builders and web design software. You don't need to pay to use WordPress. Hosting is all you pay for.  However, you can also use a hosted WordPress platform to create your website entirely free of charge.
2.

 

It is highly customizable and user-friendly
You can easily customize the entire look of your website using themes, plugins, and page builders.
3. Your website will be "responsive". 
Your website will instantly look great on any device, tablet, or smartphone. You don't have to hire web developers.
4.

 

Community assistance available
You can get quick help from the many users of this platform (webmasters, small-business owners, and bloggers). You can either get help for free or hire thousands of WordPress developers.
What other good WordPress alternatives are there?
Wix: 

The website builder is simple to use, thanks to its drag-and-drop interface.

 

It is not recommended for larger websites as it is more costly.

 

Also, it makes it difficult for its users to migrate to any other web platform.

Squarespace: 

It's a powerful website builder that allows you to easily create stunning websites.

 

It comes at a higher price per month and you cannot migrate your website.

Drupal: 

It's a powerful platform that is popular with both web developers and experienced coders.

 

It is not the best option for beginners.

Joomla: 

It's very similar to WordPress, and can be used to develop websites.

 

It requires some configuration.

A basic understanding of programming is essential in order to make things work the way you want.
At iMarena, we recommend WordPress due to its vast functionality and ease of use.
4.
Choose a domain name
Once you have chosen a platform for your website. Select a domain name to host your website. There are many domain name extensions, but we recommend that you choose a ".com" domain name. Make sure your domain name is memorable and connects with your brand. Namecheap is the best domain name registrar to register domain names at a low price.
5.
Register for a web hosting account
Web hosting is essential for your website to become live. If you decide to host your website with web hosting companies, many offer domain registrations at no cost or a subsidy. Read our article to learn more about web hosting.
6.
Launching your website
Now it is time to launch your website. WordPress users will need to go through several steps before they can successfully launch their website.
Step 1 – 

Install WordPress
Install WordPress using the One-click installer in your hosting account cPanel.
Many popular hosting companies offer similar cPanel interfaces. Bluehost is our preferred hosting company.
Step 2:

 

Install and activate a Theme
Your login details will be sent to you after installing WordPress. You will be emailed your login URL along with your login credentials.
Install and activate a theme in your dashboard.
WordPress themes are templates that make it easy to modify the look of your website faster.
To install and activate a theme, go to Appearance > Themes. On the page that opens, click on "Add New" and that will take you to the page where you can see an array of themes to choose from. You will also see the option to upload your own theme.
Next, use the search bar to find a theme that matches your site.
Once you've found the theme you like, click on the Install button. After the installation is complete, click on the Activate button.
You can also find premium themes at these other places: ThemeForest, MOJO Marketplace, and StudioPress.
Step 3 – Create Your Major Pages
Every website should have the following pages:
Homepage

About page

Contact page
Some WordPress themes include page templates that can be used for particular page types. If you are using a premium theme, it will come with a pre-design homepage, about page, and contact page among different other pages. 
You can choose to edit those you want to suit your need and delete the pages you don't need.
Step 4 – 

Add Menus
The navigation menu is an important part of this process. After you have created pages, it is time to make them accessible to visitors to the site. To add menus go to Appearance > Menus.
First, give your menu a name and then click Create a Menu.
You can then choose the content you want to add to the menu on your left. To add pages to the menu, click Add to. To see the new menu, click Save and return to your website's front end.
Step 5  – 
Add More Customizations
You can also customize your site by going to Appearance > Customize. In this section, you can add:
Title and tagline

Logos

Colors

Typography

Background image

Menus

Widgets
You may be able to see more options depending on the theme that you have installed.
Step 6 – Add Plugins for more functionality
Plugins add more functionality to your website. And there are some essential plugins you may need to install and activate.
To install plugins, click on Plugins > Add New.
Some of the important plugins to install are: 
Yoast SEO – A top search engine optimization plugin that adds on-page optimization prompts to every page and post plus the option to customize Open Graph social media tags.
Jetpack – includes a wide range of features to improve website speed, optimization, social media integration, digital marketing, contact forms, and site search.
Wordfence – To protect your site against brutal attacks from hackers.
WooCommerce(optional) – Adds e-commerce functionality
MonsterInsights – This plugin adds Google Analytics to your WordPress dashboard.
Page builders – Sometimes, you might need to build landing pages on your own and for that, you will need a page builder. Popular WordPress page builders are Elementor, WP Bakery,  Beaver Builder, and Divi.
You can read this in-depth article on recommended plugin tools every website should have.
Step 7 –
Add a blog (optional)
To add a blog to your website, first, create a blank page and name it 'Blog.' Publish the page.
Then go to  Settings > Reading.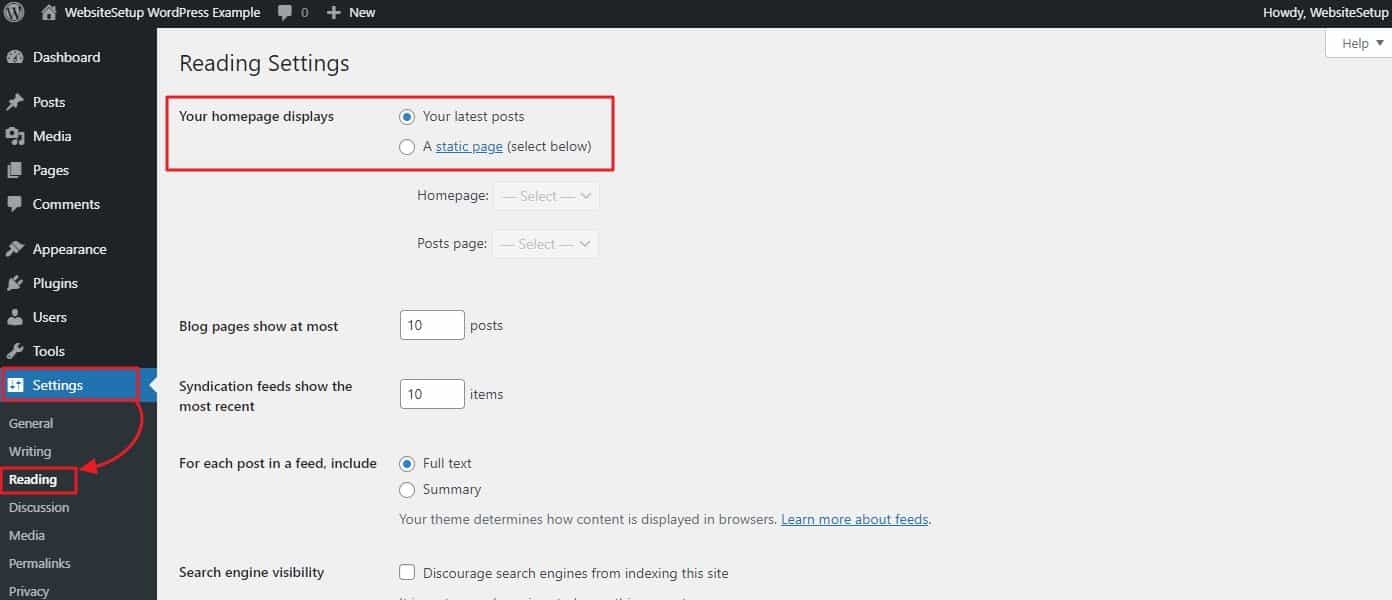 Under the Posts page, select the Blog page you just created and it will automatically display all your blogs on that page.
Step 8 – Publish a blog post.
To publish a blog post, go to Posts > Create New.
This will take you back to the content editor you used for your pages. Your blog post should have a title and some content. Add images, formatting, headers, and lists to your blog post. You can also use the sidebar to define an excerpt and apply tags. If you can use Google Docs or any word processing document, you can figure it out.
After you are done editing, click publish.
Step 9 –
Final Launch
It's time for your site to be officially launched once it is complete. Double-check your settings, and make sure you proofread all pages and posts.
You can now check your live website.
Congratulations!